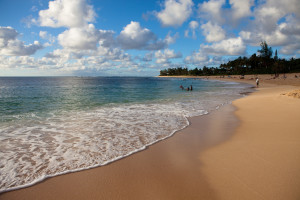 Hawaii is an amazing place with scenic beauty islands. According to the Department of Business Economic Development and Tourism, 698,584 people visited Hawaii in just six months this year. Many people who visit Hawaii are so captivated by its breathtaking islands that they would love to live there. The biggest problem with considering moving to Hawaii is expenses and jobs. Using Pay Scale's cost of living calculator Honolulu, Hawaii housing is 179%, utilities 128% and groceries 50% higher compared to Atlanta, Georgia.
Hawaiian's salary is no match to the rising housing cost and finding jobs in Hawaii is no walk in the park or should I say on the island. People living in Hawaii average income is a little over $45,000 which is the national average but keep in mind the percentages stated above. Cost of living in Hawaii is well over 75% higher than the national average households. Finding a well-paying job in Hawaii is difficult. Due to the high volume of tourism, the majority of the locals work in hospitality a very low paying industry.
Most job seekers will apply online for jobs in Hawaii. Days and weeks go by no email or phone call. You're starting to feel like your application fell into a black hole. There are a few reasons why you may not have gotten a response back from your online application. One being that you're not the only person that applied. On average for every one person that applied for the same position, 200 others did as well. A second reason why no response from you online application is because you had to complete a profile and add your address. A recruiter or hiring manager can see that you don't live in Hawaii and most employees want to save the company money and not go over their budget. Travel and relocation fees are a huge expense and it would be more cost efficient to hire someone already living in Hawaii. Third reason being that you submitted your resume to an applicant tracking system (ATS). These systems are used to manage and screen incoming resumes. Despite your qualifications and experience if you don't have the right keywords or phrases the ATS will rank your resume as not being a good match for the open position.
Flexible work is a great alternative that pays well and allows you to live where you want to live in Hawaii. Workplace flexibility is when an employee and employer customize the traditional Monday through Friday nine to five workday and work week. There are different options to flexible work, for instance, freelance, consulting, work from home, telecommute also called remote.
Here's Four Tips to Finding Flexible Work:
Do what your competition is not doing, that's how you can stand out from the rest. Most employers first look at their internal resources before posting jobs. Employee referrals get first dibs. Previous and current employees know the company's culture and mission. Plus, employees are not going to recommend someone who they don't believe would be a good fit. Their credibility and reputation could be tarnished by association.
Create a Value Proposition Letter
Resumes and cover letters may be required but if you want an employer to call you, type up a letter and mail it to your targeted companies in Hawaii. Sometimes you have to break the rules to get noticed. Focus on how you can grow revenue and save the company money.
Start blogging about your expertise in the industry. Showcase your personality and share your thoughts about the companies in Hawaii where you would like to work. Write about what type of issues people in your industry are facing.
Over 85% of recruiters use LinkedIn to source candidates. You need to be where employers are so you can be found. Set up a LinkedIn profile, it's like an online resume. Research which social media platforms your targeted companies in Hawaii use. Follow, read and learn the latest industry trends but most importantly engage with employers.
More Fortune 500 companies see the value in workplace flexibility. Employees are happier healthier more productive less stress balancing their work and personal lives. You can make more money and get a good paying job while enjoying paradise. Use these tips to land your flexible job in Hawaii.
What would you do to find a job in Hawaii?