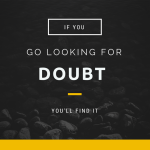 If you go looking for something you will find it. That saying is so true. They say love makes you do crazy things well, so does fear.
In this case, it's doubt. I noticed this particular coach's name was mentioned as being so successful in a short period of time on almost all the podcast I listen too. So, I did what I always do, research the heck out of the person. I check how many followers they have on Twitter. I visit their website to see if it has a modern feel or ol' school. I check to see if they have a podcast and if they do I listen to part of the episode to hear their voice. What am I listening for? I want to hear if they are a down to earth person or uptight. Next, I check to see if they have a YouTube channel. If so, I watch a video to read their body language and mannerisms. Does he or she have a sense of humor? Sometimes, I check out their blog to see when was the last post.
By this time I've decided if I'm feeling you or not. If I do, I'll follow you on Twitter, Pinterest, and Instagram. Well, this particular person I was feeling so, I did my usually follow on all social media platforms but I started to notice a pattern. Not his or her story, I knew that by now. But I notice that this person was saying quotes from books and other motivational speakers or online business gurus.
This person was everywhere. It made me start wondering, is this person successful because he/she paid for their spot. What I mean by that is, most well-known online business gurus have an expensive coaching program or expensive mastermind group.  The reason why I'm saying expensive because it is to me. Most people would have to take out a loan to cover the cost for coaching or join the mastermind group.
It seems like if you buy the expensive service the coach will give you their contact and tell all of them to promote you on their blog or ask that you give a testimonial on their site about the coach. Not that they have used their service because they haven't. Most of the time the person giving the testimonial is a well know figure in the industry.
It seems like after you get a loan to pay for coaching or join the mastermind group you just paid for their contact list or paid for access to their contacts. The well-known established person will add you to their website or allow you to speak at their next conference since you paid all that money.
What I notice about this particular coach they paid for 3 to 5 very expensive mastermind groups, academies or programs. What else I notice is this particular person already knew a lot of people because of their previous relationships. This person was also a speaker prior to joining the mastermind.
Most of the people who paid a huge fee to work with a successful coach had a six figure job prior transitioning to entrepreneurship. A lot of the people had an MBA or Ph.D., I notice as well.
My point is it seems like if you decide to pay a huge amount of money you're really paying for a step by step blueprint of how that person became successful and their giving you permission to model their business exactly how the gurus did it.
Ok, one more point and I'm going to end this post. It seems like if you pay for the lower price services you will only get a quarter of the information to become successful. You might get one of your questions answered during a webinar, Google hangout or conference call.
The low-end is what that guru has accomplished. But, high-end is how the gurus do it specifically because if you shine (win) the guru gets the accolades and win too.
I'm really considering investing in myself (like the gurus call it) but I don't want to just be giving money away into a monthly group coaching call and only get generic broad information that's not educating me how to get to the next level. I'm surely not going to take out another, well…3 loans. Trust and believe my student loans taught me a lesson I don't want to see anyone go down.
Don't get me wrong, I would love to be a very wealthy and successful coach but I don't want people getting loans and go into debt just to pay for my services.
What are your thoughts? Share your experience investing in yourself and paying for one or more very expensive programs and services.